Performers of 13. International Young Composers Academy in Tchaikovsky-city
Moscow Contemporary Music Ensemble (MCME)
Moscow Contemporary Music Ensemble (MCME)
was founded in 1990 by Yuri Kasparov under the patronage of the famous Russian composer Edison Denisov. The ensemble focuses on promoting 20
th
– and 21
st
-century music.  It is Russia's foremost contemporary chamber ensemble and consists of some of the best Russian musicians specializing in modern music.
MCME has strong educational goals and works closely with both Russian and international cultural foundations to bring contemporary music to a wide range of audiences.  As part of this goal, MCME organises the annual fortnight International Young Composers Academy (Tchaikovsky City, Ural) to bring together both young composers and internationally recognized composers in workshops.
The ensemble's repertoire is extensive and has included the premieres of almost 1000 different works.  MCME regularly performs in diverse locales across Russia (80 cities) and elsewhere in the world (28 countries). MCME has performed on the best concert stages, and taken part in some of the biggest international festivals such as "Moscow Biennale for Contemporary Art", "DiaghilevFest" (Russia, Perm), "Radio-France presences" (Paris), "FrankfurtFest", "Maerzmusik-Berlinerfesrspiele" (Germany), "Gaudeamus music week", "The Night of the Unexpected" (the Netherlands), "Warsaw Autumn" (Poland), "Klangspuren" (Austria), and "Tranasrt" (Italy).
MCME has recorded more than 50 CDs for leading CD labels, including
Olympia
(UK),
Harmonia Mundi
(France),
Triton
(Japan),
Donemus
(The Netherlands), and
Fancymusic
(Russia).
In 2009 MCME won the award ACTION in support of theatrical initiatives, and were awarded the GOLDEN MASK in 2013.
MCME:
Konsyantin Efimov (flute)
Oleg Tantsov (clarinet)
Mikhail Dubov (piano)
Maria Sadurdinova (piano)
Evgeny Subbotin (violin)
Olga Demina (cello)
Konstantin EFIMOV (flute)
Konstantin Efimov graduated from the Faculty of Historical and Contemporary Performing Arts of the Moscow Conservatory. He is a Laureate of the International Competition for Young Performers on Wind Instruments in Moscow. Soloist-regulator of the Russian National Orchestra. Soloist of the Musica Viva chamber orchestra. Soloist of the ensemble Questa Musica. Soloist of the Moscow Persimfans – a symphony orchestra without a conductor. Member of the Celtic folk group Tellen Gwad.  Soloist of the Moscow Ensemble of Andalusian Music. As a guest musician, he collaborates with the Studio for New Music and the Center for Electroacoustic Music at the Moscow Conservatory. He became the soloist of the Moscow Contemporary Music Ensemble (MCME) in 2022.
Konstantin Efimov is a musician who freely performs the academic repertoire, folk music and modern experimental avant-garde. She also takes an active part in theatrical productions and performances, feeling comfortable in the territory of interdisciplinary art.

Oleg TANTSOV (clarinet)
Oleg Tantsov was born in 1957 in Moscow. He graduated from the Central Musical School, Moscow State Tchaikovsky Conservatory (class by professor V.Petrov) and Post-Graduated Course of the Conservatory. O. Tantsov is a laureate of All-Russian and International Performing Competitions, since 1998 he is the Honored Artist of Russia.  He collaborated with TV and Radio State Symphonic Orchestra (conductor Maxim Schostakovich), State Cinema Symphony Orchestra, State Academic Symphonic Chapel (conductors Gennady Rozhdestvensky and Valery Polyansky). Since 1990 Oleg Tantsov is a soloist of Moscow Contemporary Music Ensemble. He is a professor and chief of the Wind department the State Musical College under the Moscow Conservatory. Besides he has a Class of chamber music ensemble in Ippolitov-Ivanov Music-Pedagogical Institute, being there also a chief conductor of "Ensemble XX". At the moment he is a chief of the Wind Department of the Central Music School (College) under Moscow Conservatory. As a soloist and chamber player Oleg Tantsov took part at the famous international contemporary music festivals such as "Gaudeamus Music Week" (Amsterdam), "Warsaw Autumn" (Poland), "Moscow Autumn" (Moscow), "Diaghilev Seasons" (Perm), "Radio France Presences" (Paris), "Tage fuer Neue Music Zurich" (Zurich), "Tokyo Summer Festival" (Tokyo), "MaerzMusik" (Berlin), "Klangspuren" (Innsbruck) and other. In 1997 he was invited as a soloist by "Ensemble Modern" for the special project (Frankfurt/Main, Berlin, Vienna). He was recorded by well-known international companies, Olympia (UK), Le Chant du Monde/Harmonia Mundi (France), Triton (Japan) are among them. A lot of Russian and foreign composers composed and dedicated their music to Oleg Tantsov. He was a first who initiated and performed in Russia premiers of Russian and foreign composers, for instance, "Echange" by Iannis Xenakis, "Amore" by Karlheinz Stockhausen, Sonata for clarinet and piano by Edison Denisov, etc. Oleg Tantsov gives a lot of time to teaching, research and methodical work. He created and published a lot of professional researches and books on execution of contemporary music for wind instruments, among them are "New directions for clarinet", "New directions for flute" and others.
Mikhail DUBOV (piano, cembalo, organ) ­
Mikhail Dubov is a pianist and musicologist, a laureate of Seiler prize and Action premium. Graduated from the Moscow Tchaikovsky conservatory. Studied piano with prof. V. Gornostaeva, organ and cembalo with prof. A. Parshin. Defended Ph.D. thesis on Iannis Xenakis, now proceeding musical research. At present he is a professor of the Moscow conservatory (piano, ensemble and XXth century music history) and Ippolitov-Ivanov musical college, being there one of the founders of contemporary music chair. Mikhail Dubov became a member of the Moscow philharmonic ensemble "Old Music Academy" (leaded by Tatiana Grindenko) in 1992, where engaged in authentic performing of baroque masterpieces. Was invited for several programs by Jury Bashmet ("Moscow soloists") and "Madrigal" ensemble. Since 1993 Mikhail Doubov is a soloist of the Moscow Contemporary Music Ensemble. As a soloists and chamber performer he played concerts and participated in festivals in many countries. He is the first performer of numerous works by Russian and foreign authors (up to the moment about 50 world premiers), including works by E. Denisov, D. Kurtag. Took part at dedicated concerts of I. Xenakis, H.-W. Henze, E. Denisov, T. Loevendie. Appeared at the most significant European new music festivals "Gaudeamus" (Amsterdam, 1995, 2001, 2003), "Warsaw autumn" (1997, 2004), "Maerzmusik" (Berlin, 2009) and others, at many of them as a constant participant. During a number of seasons have been performing series of XX century solo piano concert programs. Performed as soloist with well-known orchestras: "Ensemble Modern" from Frankfurt (cond. J. Nott), Moscow State academic symphony, St.-Petersburg Mariinsky orchestra (cond. J. Nozeda), Bolshoi TV and radio symphony, National Philharmonic Orchestra of Russia, including Russian premieres of piano concerto "Synaphai" by Xenakis and Concerto pour four soloists and orchestra by Messian at the Bolshoi Hall of the Moscow Conservatory with conductor Daniel Kawka. Mikhail Dubov participated in more than 40 CD recordings at different labels: "Melodija" (Russia), "Olympia" (Great Britain), Publishing House  "Le Chant du Monde" (France), "Meldac" (Japan), "Megadisk" (Belgium), "Russian disc" etc., mostly with XX century music. Published about 20 works in Russian editions on such topics as Varese, Xenakis, Schostakovich, Denisov. Participated in a number of international conferences concerning contemporary music.
Mikhail Dubov – professor of Moscow State Conservatory, a dean of the Historical and Contemporary Performing Faculty
Evgeny SUBBOTIN (violin)
Evgeny Subbotin is a violinist, violist, arranger, multiinstrumentalist. In 2005 he graduated with honors from the Moscow State Conservatory in the class of Professor A. B. Trostyansky. He is a laureate of International and all-Russian Violin Competitions, winner of the Rakhmaninov International Festival. In 2009 he organized the FX Quartet string quartet, the repertoire of which was based on the arrangements and author's music of Eugeny. In the quartet he became the winner of the International Competition Usadba Jazz (2013) and the finalist of the TV project Quartet 4 * 4 on the State Russian channel "Culture" (2018). For 10 years he held the position of concertmaster of second violins group in the Russian National Philharmonic Orchestra. As a concertmaster he also collaborated with different orchestras such as "Musica Viva" (under Alexander Rudin), "Questa Musica", "MusicAeterna" (under Theodor Currentzis), Moscow Symphony Orchestra, "Four Seasons", participated at the leading music festivals such as "Diaghilev Festival", "Moscow Autumn", "Viola in my Life", etc. He actively promotes contemporary music and since 2017 he constantly collaborates with the MCME as a soloist. His partners in chamber ensembles were Alexander Rudin, Alexander Trostyansky, Arkady Shilkloper, Grigory Krotenko, Petr Aidu, Sergei Poltavsky and other leading musicians.
Olga DEMINA (cello)
Olga Demina was born into a family of hereditary musicians. From an early age she studied piano, but later she preferred the cello. She graduated with honors from the Central Music School at the Moscow Tchaikovsky State Conservatory in the class of Andrei Demin, then continued her studies at the Moscow Conservatory in the class of Professor Natalia Shakhovskaya. Olga is a Laureate of international music competitions (including the Geran International Competition (1st prize) and the P.I. Tchaikovsky Youth Competition (3rd prize). Soloist of MCME, the Sergey Mazaev's QueenTet ensemble, soloist of the Persimfans orchestra and other chamber and symphonic ensembles of Moscow. As a member of MCME, she took part in concerts and educational projects, such as "Composer's Readings", master classes, composer and performing workshops, taught at the Practicums of Contemporary Academic Music. Olga Demina writes music for spectacles and films, in particular, "Mother's Field" (Pushkin Theatre, Moscow), "Lady with Camellias" (Pushkin Theatre, Moscow), the documentary "Friedl" (2019, Kultura TV channel), etc. She is also a theater actress. Performances with her participation are on the stages of theaters et Cetera and the Pushkin Theatre.The performance with her participation "War" (dir. V. Pankov) opened the 68th Edinburgh Festival.
Ensemble "CEAM-Artists"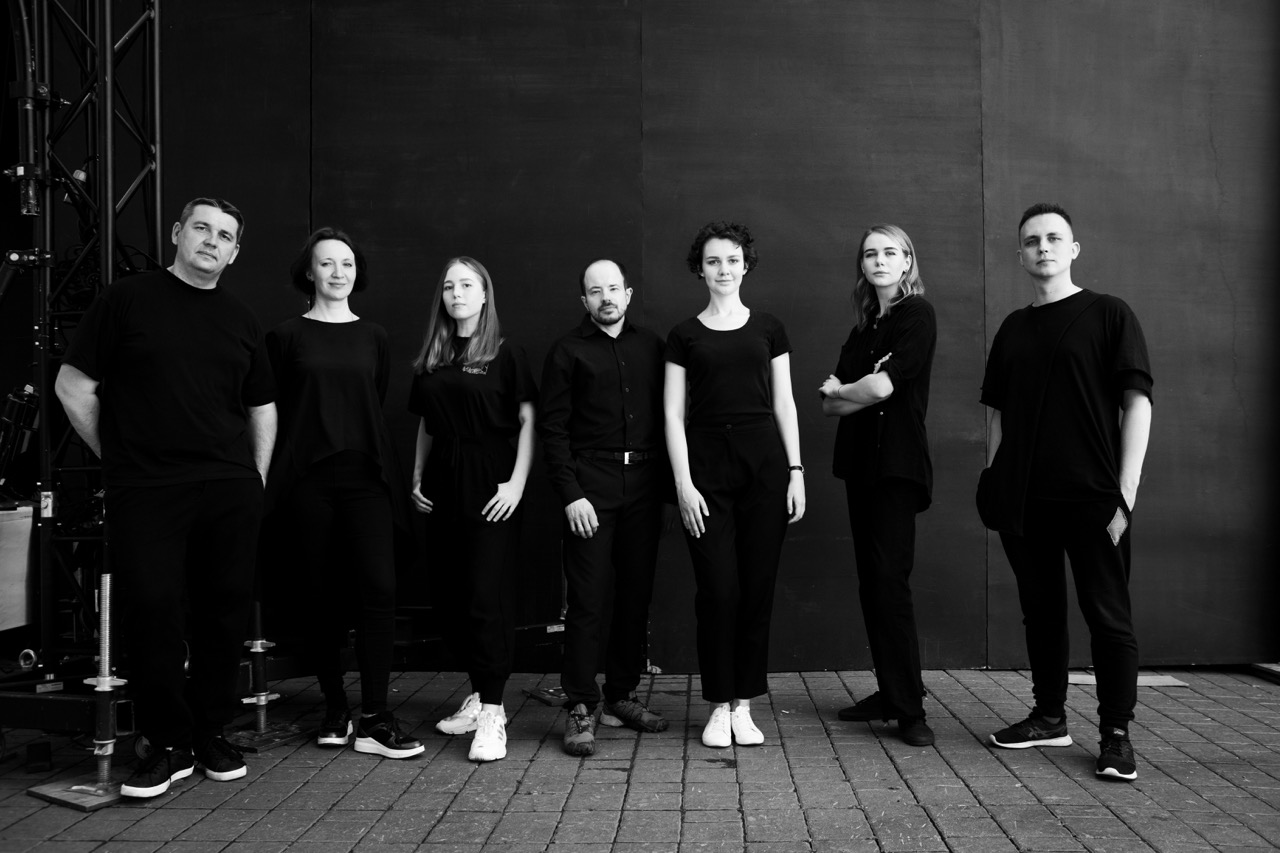 The Scientific and Creative Center for Electroacoustic Music (CEAM) was founded in 2006. This is an unique department of the Moscow State Conservatory, which has no analogues in Russia. The center has modern professional equipment and has a lot of activities in the field of electro-acoustic and multimedia composition. Also one of the most important areas of the CEAM work is research of the history and theory of electroacoustic music in all its variety of forms based on the world experience, as well as the preparation of educational and methodological publications. In recent years, the CEAM has been expanding its activities: laboratories of contemporary music, seminars, lectures, master classes, creative meetings. In 2022, the Moscow Conservatory hosted the First Biomechanics Multimedia Festival, which included the first concert of CEAM Artists, an ensemble of the Center for Electroacoustic Music. The repertoir of the ensemble is based on electro-acoustic music and compositions with multimedia. Soloists of CEAM Artists are musicians with rich experience of performing contemporary music, who are ready for any experiments.
CEAM-Artists:
Yulia Migunova (cello, electronics)
Venedikt Peunov (bayan, electronics)
Yulia MIGUNOVA (cello, electronics)
Yulia Migunova was born in Nizhny Novgorod. She graduated from Nizhny Novgorod State Conservatory in 2009 (class of cello of Vishniewsky P. D.). As a member of various ensembles she took part in master classes with such artists as specialist of authentic performance Christoph Meier, winner of Yuri Bashmet International Viola Competition Daniil Grishin, «Vermeer-Quartet», «Jerusalem-quartet», «Debussy-quartet». Since 2006 she is a member of Cantando string quartet, with which she became a winner of numerous international competitions and festivals in Russia, Germany, France, Greece, Serbia. In 2011 the quartet won the I All-Russian Music Competition in Moscow. Since 2011 Yulia (both as soloist and as a member of different ensembles) becomes an active participant of contemporary music festivals collaborating with soloists and composers from Russia, Ukraine, Poland, France, Spain, Austria, Denmark, Italy, Germany and others. In 2008-2013 – artist of the Chamber Orchestra "Soloists of Nizhny Novgorod", from 2013 – soloist of the Nizhny Novgorod Rostropovich Philharmonics Symphony Orchestra. Since 2015 she is actively cooperating with Moscow Contemporary Music Ensemble.
Venedikt PEUNOV (bayan, electronics)
Venedikt Peunov is an accordionist, conductor, associate professor of the Nizhny Novgorod Glinka Conservatory, member of the Russian Union of Composers. As a performer he is a winner of international competitions (Italy, USA, Russia). Soloist and arranger of the STYLE-QUARTET ensemble. Member of various contemporary music festivals such as "Another Space", "Biomechanics", "Five Evenings" (Moscow), "OPUS 52" (Nizhny Novgorod), "Europe-Asia" (Kazan), "Bayan-Parade" (Ukraine, Odessa), "Probaltica" (Poland, Torun). He performed in the Great-Hall, Rachmaninov-Hall and Small Hall of the Moscow Conservatory, the Tchaikovsky Concert Hall, the Great Philharmonic Hall and the State Academic Chapel of St. Petersburg, etc. he is a Laureate of the Prize of Nizhny Novgorod.
Vocal Ensemble N'CAGED
Vocal Ensemble N'CAGED was founded by Arina Zvereva in 2013. Participants are Arina Zvereva, Olga Rossini, Sergey Malinin, Ilya Laptev. They perform contemporary music, collaborate with composers in opera and drama productions, concert programs, performances and museum projects. N'Caged participated at the concert series of the Moscow International Music House. The ensemble is laureate of the national theater award "Golden Mask" (2021). The ensemble's projects include the opera Prose (director and composer Vladimir Rannev, Stanislavsky Electrotheatre), the opera Octavia. Trepanation (composer Dmitry Kurlyandsky), operas Maniosis, Maniosis 2, The Book of Seraphim (director and composer Alexander Belousov), Asteroid 62 (composer Dmitry Kurlyandsky), opera series The Drillers (composers: Dmitry Kourliandski, Boris Filanovski, Alexei Sioumak, Sergei Newski, Alexei Sysoev, Vladimir Rannev), "Dostoevsky 200" (New Space of the Theater of Nations), Performance "Utopia for Dinner" (Tretyakov Gallery in Samara). Most of the compositions are released on the FANCYMUSIC label.
N'CAGED:
Olga Rossini
Arina Zvereva
Sergei Malinin
Ilya Laptev
Young performers, students of the Practicum for Contemporary Performing Art
Adelina Gansvind is a pianist, soloist of a chamber lied duo TAÑ, teacher and accompanist of the Kazan state conservatory. Pianist actively performs both as a soloist and member of different chamber ensembles. Adelina had a traineeship at the Santa-Cecilia conservatory in Rome, took part in master-classes of such professors as A. Lyubimov, M. Dubov, E. Virsaladze, L. Zilberstein and others, and is also a participant of the Fourth Practicum for Contemporary Performing Art organised by MCME.
Elena Pererva is the 5th year student of the Nizhny Novgorod State Conservatory (violin class of Professor L. Lukyanenko). In 2018 she graduated from the Saratov Regional College of Arts (class of teacher G. Zotov). She was awarded a nominal scholarship of the governor of the Saratov region. Laureate of the first degree of the international competition "Viva-music" in Kazan. Participant of the IV Performing Workshop of Contemporary Academic Music.
Denis Rotaru was born in 2002 in Balashov, Saratov region. He has been playing flute since eight years old. In 2016 he moved to Moscow for studying at the First Music Lyceum. In 2019, he was in educational – training centre Sirius in Sochi and was in international camp Artek. He participated at the International Gnessin Competition, International Competiton in Varna (Bulgaria), Tampere Flute Fest (Finland). He participated at the International Festival "Virtuosos of flute" Nowadays, he is studying at the Moscow State Schnittke Institute of Music (a professor is Irina Stachinskaya).
Alina Ezhakova graduated from the Ural State Conservatory. She is a pianist, leader and soloist of Intertext Ensemble. Curator and member of the concert series «New Music in the Hall of Freedom». (Yeltsin Center, Yekaterinburg). Co-founder and soloist of the improv group "tsarapina". Participant of MCME, Studio for New Music (Center for Contemporary Music at the Moscow Conservatory) workshops for performers.
Yuri Nechaev graduated from the Ural State Conservatory. He is a clarinetist of the Ural Philarmonic Orchestra, Intertext Ensemble and improv group "tsarapina". Co-founder of the Jazz-club Ever Jazz (Yekaterinburg), member of the concert series «New Music in the Hall of Freedom» (Yeltsin-center, Yekaterinburg). Clarinet tutor at the Sverdlovsk Music College named after Pyotr Tchaikovsky.
SOUND AND LIGHT PROVISIONS FOR CONCERTS
Ilya Kovalsky, sound Ilya is sound engineer of the scientific and creative center of electro-acoustic music of the Moscow Conservatory. P. I. Tchaikovsky CEAM (work with the composer on the premiere, audio recording, editing, conducting rehearsals and concerts of ensembles, setting up and minor repairs of equipment, technical support for broadcasts on youtube). He worked as a sound engineer in the cultural institutions of Novosibirsk – in the theater "Old House"; sound and video director at MDT "First Theater"; specialist in online broadcasts at Pobeda Cultural Center, Novosibirsk; project coordinator in KB "Engiro", etc.
Igor Pavlov, light was born in G. Pushkino, Moscow region, graduated from MBOU secondary school No. 8 in Pushkino, after which he graduated from the Prokofiev Musical College with a degree in orchestral wind and percussion instruments. In parallel with school, he studied for 5 years at the school of programmers from Yandex. Currently, he is studying at State Theater Institute in the specialty "Sound engineering of mass cultural and concert programs"
I academy
II academy
III academy
IV academy
V academy